03/
06
/23
SLIGHTLY STOOPID AND SUBLIME WITH ROME ANNOUNCE THE SUMMERTIME 2023 TOUR
Tickets for September 1 stop at Daily's Place go on sale Friday, March 10 on Ticketmaster
JACKSONVILLE, Fla. – Live Nation and Bold Events announced today Slightly Stoopid and Sublime with Rome's first round of dates for their Summertime 2023 tour. The tour will hit outdoor amphitheaters and select festivals across the country, including a stop at Daily's Place on Friday, September 1 at 5:00 p.m.
Tickets will go on sale to the general public at www.dailysplace.com beginning on Friday, March 10 at 10 a.m. Jags365 and Daily's Rewards Members will have access to presale tickets beginning Thursday, March 9 at 10 a.m. Fans gain first access to the artist presale beginning Tuesday, March 7 at 10 AM local time, where a very limited amount of "early bird" tickets will be available in each market for $30. Tickets will be available at SlightlyStoopid.com/tour.
The historical significance of this package is extraordinary as Slightly Stoopid joins forces with Sublime With Rome on tour for the first time ever. It all traces back to legend Bradley Nowell (Sublime's original frontman) and Sublime's early influence on the career of Slightly Stoopid. After initially hearing Miles and Kyle practicing while they were teenagers, Nowell signed them to his indie label imprint Skunk Records while the band members were still in high school. Nowell later produced and released their debut studio album Slightly $toopid in 1996 on Skunk, and appeared on the hidden track "Prophet," now a staple in the Slightly Stoopid live repertoire nearly 25 years after its original recording. Together these groups became the forerunners of a genre of music and lifestyle movement that will be reflected through the deep catalogs of songs about to be performed across the country.
"We couldn't be more excited for the Summertime 2023 tour," says Miles Doughty. "We haven't toured with Sublime since the early years of Stoopid and we are really excited to be back with our brothers on what we like to call the ultimate summer band camp. We're stoked to debut some new songs and play new venues and cities we haven't hit for a while. And most importantly we can't wait to be playing music for all of you this summer… between the on-stage collabs and the backstage hangs it's gonna be insane! The Stoopidheads are what fuels Slightly Stoopid. Should be an epic summer of madness!!!"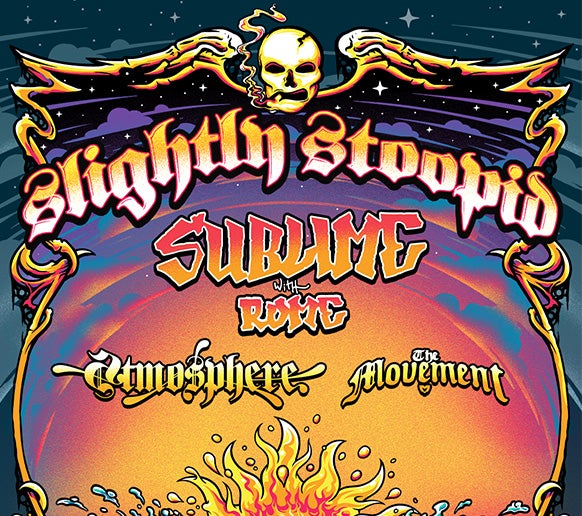 With Special Guests Sublime with Rome, Atmosphere, & The Movement